first official field test of the Imperial Saaz was near the New Hampshire border on the Nashua River Rail Trail. Sandy, Weezhul & I biked 16 miles on this crisp (almost) spring day, stopping a few miles short of the border to stealthily sip on the Saaz. All went without incident, and without complaint.

I like this brew - not what I expected. Wanted to do something different, and it was: lighter & heavier at the same time! Thought it would be hoppier (a massive amount of Saaz hops went in, as well as some Northern Brewer) but really just balanced it out nicely. A smooth drinker, 'specially considering it's 7.5% abv. Not sure how I'd pigeonhole this one - it's simply a light-colored strong ale.

(24 March 2012) The 10th Anniversary Imperial Saaz was brewed with the 35th Annual Erebus Directors' Fandango on the horizon. Think they'll appreciate it's naiveté. They're a discerning bunch. As I drink a bottle two weeks from bottling, 'tis very tasty. Following a Harpoon IPA and a coupla Sierra Ruthless Ryes, the Saaz came out swinging. Standin' tall. No regrets.

(7 April 2012) After a trip to the fine Homebrew Emporium, where Q-Back finally took the plunge, purchasing a homebrew kit and some extras, I retired to the Fishbrook Pond Brewery. Sessioning the Imperial Saaz as we speak. Or drink. Made a purchase myself there - a used corny keg. For the newly acquired Nostalgia Kegerator. The Imperial Saaz is full-bodied, light in color, and damn tasty. It's loaded with hops, yet not hoppy. High in alcohol (7.5%) yet not alcoholy. (Is that a word?)
.:: 2012 TECUMSEH: 4003' ::.

(April 14, 2012) First hike of the year for us, Tecumseh cracks the 4000' club with 3 feet to spare. Kate, Big Nude & I hit the aptly named Mt. Tecumseh Trail at 8am from the Waterville Valley parking lot. Some snow and ice but we bare-booted with no problem. Perfect clear day, 5 miles roundtrip. A nice easy one to start the season. #38 for the Nudz. I hiked this one before, way back in '04. It's really a nice hike through gorgeous pine forest, and the view from the top on this fine day was something.
The snow capped Presidentials stood out, as did the Tripyramids. Still true winter conditions there. The only setback was a disastrous field test of the Fishbrook Pond Imperial Saaz. I plopped it in the snow (on the summit) to take a promo shot, got the picture, then, like a Korean long-range missile, it nosedived upside down into the snow below. Managed to salvage a few slugs, but it was not a successful field test. Not at all.


BREWED: 26 February 2012  BOTTLED: 10 March 2012

BARLEY: 2-row pale, Munich, biscuit  HOPS: Saaz, Northern Brewer

EXTRACT: Pale Malt, glucose  IRISH MOSS

YEAST: Wyeast 2565 Kölsch yeast


---
2011
.:: 2011 AMARILLO ALE ::.
(September 1, 2011) #36. Amarillo Ale, my first brew of the year. At Barleycorns. A single-hop, almost single malt beer. Almost a SMASH! (If you can call it that on an extract brew.) Amarillo was the hop of choice, and I'm hopin' fer 12 gallons of piney-citrusy pale ale. Not overly hopped, but enough to getcha lickin' yer chops. Yet another riff on the classic Fishbrook Pale Ale, brewed specially for the mountaineers attending the 34th Annual Oktoberfest at Fishbrook Pond.
(September 16, 2011) Put the baby to the bottle on this fall-like afternoon. Mike & Kate joined me in the assembly line - I filled 'em, Mike capped 'em, and Kate labeled 'em. Like a fine-oiled machine. And we all tasted 'em. (The more you drink, the less you have to bottle.) Very hoppy, an assertive bitterness, more than I anticipated, but very drinkable. The alpha level of the Amarillo hop was about twice that of the Cascade used in previous brews. Cloudy and light in color. A simple IPA, nothing wrong with that. Nothing groundbreaking fer sure. We'll let her settle in fer a few weeks and do a mountain field test.
AMARILLO IN THE FIELD . . .
.:: 2011 Round Mountain Trail, Adirondacks ::.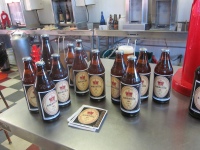 (September 19, 2011) Perfect day in the Dix Mountain Wilderness. Took the Round Pond Trail and veered north towards Round Mountain. Sidetracked by a scenic pond, ripe for moose. Or so I thought. A curious beaver engaged me, and I got some good video and pictures. Apparently missed the turnoff to the mountaintop, but no worries. Had lunch and a field test of the fine Fishbrook Pond Amarillo Ale on Chapel Pond, where some very hungry minnows entertained me. A fine day indeed.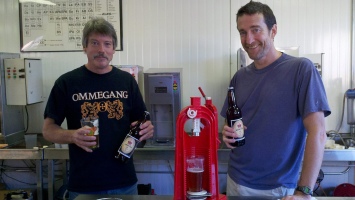 .:: 2011 Adirondack - Green Mountain Expedition ::.
(Oktober 7-10, 2011) Matty D called this a fine drinking beer. And that it is. Weasel, Quarter and I enjoyed a bottle or two at our first stop on Millman Pond in the Daks. Shared a rooftop bottle with Devo & Stew at Fishbrook. A bottle atop Black Mountain the next day, and another on the summit of Mount Abraham in the Green Mountains VT. Mountains and beer seem to pair well.....


BREWED: September 1, 2011  BOTTLED: September 16, 2011

BARLEY: 600g Caramel Malt 20L, 50g Roasted Barley  HOPS: 150g, 100g & 120g Amarillo

EXTRACT: 8L Extra Light Extract

YEAST: Wyeast 1056 American Ale yeast


---
.:: 2011 WetHOP PORTER ::.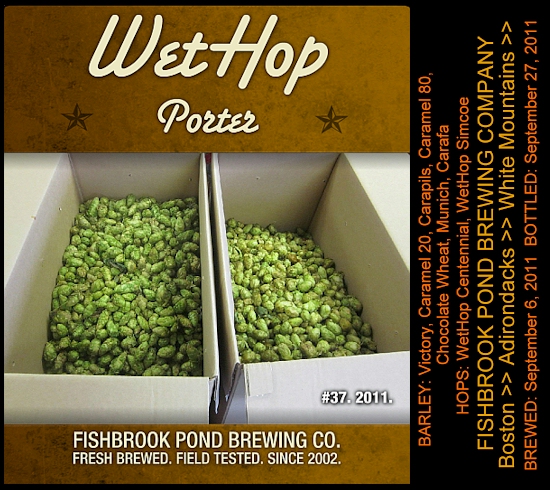 (September 6, 2011) #37. Barleycorn Wet Hop Cooperative Brewfest. As it was short notice, not the mobscene that can envelope the Barleycorn's Craft Brew. Big Nude & I chose the Porter, one of 3 being brewed this on this evening. Dan, the fine proprietor of Barleycorns, had 2 huge boxes of fresh hops specially picked: Simcoe & Centennial. Simcoe's one of my bestest hops, but the Centennial smelled heavenly. The wet hop addition was 5 times the pellet amount. Excited about this one. And we'll share the booty - a Simcoe Rye Pale Ale and a dry-hopped Centennial IPA were also brewed on this fine evening in Natick.
A welcome batch o' pizzas was delivered during the process. Hit the spot, thanks Dan.
(September 27, 2011) Big Nude & I bottled 4 cases of the three wet-hop varieties. Done in record time, with no labeling OR sampling during the bottling (a first!), we scooted over to the Robinwood to taste the fruits of our efforts before Mike was off to play hockey. (Don't know how he does it.) All three tasted pretty damn good, so we're looking forward to a coupla weeks aged in the bottle.
WetHop PORTER FIELD TEST . . .
(Oktober 7, 2011) The mountaineers on Fishbrook Pond passed a bottle of the WetHop Porter around, but I've yet to get a real handle on this one. It is definitely good, but this was not the place to taste and reflect. No one complained!
(Oktober 14, 2011) The Simcoe Rye is superb, a flavorful, full bodied dark ale. The pick of the litter fer the Barleycorn Brewfest in my opinion. Love that oily hop taste that is only present in the wet-hopped brew. Looking forward to the Sierra Nevada Harvest which is about due. They pioneered this I think. And it's catching on because it has the novelty of being different AND great.


BREWED: September 6, 2011  BOTTLED: September 27, 2011

BARLEY: 1030g Victory, 950g Caramel 20, 720g Carapils, 550g Caramel 80, 510g Chocolate Wheat, 510g Munich, 250g Carafa

HOPS: 440g Centennial (bittering), 640g Simcoe (mid), 300g Simcoe (aroma)

EXTRACT: 7.5 Amber

YEAST: Wyeast London Ale Yeast #1028


---
.:: 2011 PUNKINROCK ALE ::.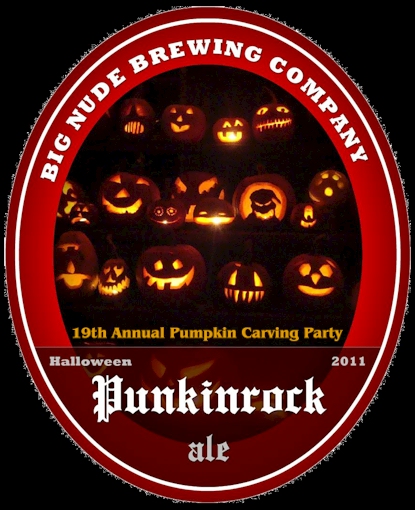 (September 30, 2011) #38. On this very day, Big Nude baked the pumpkin and before we knew it, Punkinrock Ale was born! The recipe was tweaked a bit, perhaps not enough in the way of beer to spices. I did add a smattering of roasted barley.
BNM & I cradled the kettle, and VOILA! (Not to be mistaken for 'viola' as the spell check mighta thought). Don't get me wrong - the viola's a fine, respectable instrument. Especially if'n ya can't quite master the violin. But let's face it, viola players, as earnest as they may be, cannot brew great beer.
(October 17, 2011) Bottled the Punkinrock Ale, and, of course, did some 'quality control'. (Brewing code for drinkin' one for every 12 you bottle.) And this formula can be graded upwards. But the deed was done in the nick of time for the 19th Annual Pumpkin Carving Party at the Robinwood. Field test to follow . . .


BREWED: Septmber 30, 2011  BOTTLED: October 172, 2011

BARLEY: 500g Caramel Malt 80L, 250g 2-row Malt  50mg Roasted Barley HOPS: 72g Cluster, 36g Cascade

EXTRACT: 6.5L Light Extract

OTHER: 10 lb baked sugar pumpkin, 2 sliced vanilla beans, p-pie spice, Irish Moss


---
2010
.:: 2010 SKULDUGGERY PUMPKIN ALE ::.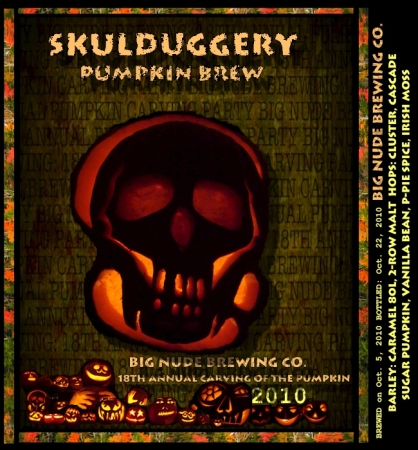 (October 5, 2010) #35. Big Nude baked the sugar pumpkin, Matty D & I joined in steeping the pumpkin and barleymalt at Barleycorns this evening. We upped the hops and malts 15-20% from last year's version, otherwise it's very close. A fine recipe, as good as I've had for a pumpkin brew, but a little more body should only enhance it. Still remains a pumpkin pale ale, just shooting for a fuller figure.
Good time at the brewery, a year to the day when this beer was brewed last. The 18th Annual Pumpkin Carving Party is almost upon us. I think this is the 7th pumpkin ale we've brewed for this occasion. The first was in 2004. It's been well received, even amongst non-alefolk, so the recipe won't be changed up a whole lot. (It's fresh beer - what's not to like?)
SKULDUGGERY BOTTLING & FIELD TEST
(October 22-23, 2010) Skulduggery bottling happened at high noon on Friday. And just in the nick of time. The Nudz, lions of zymurgy and the pride of Needham, primed the pumps, and pedal-powered the pumpkin ale into tiny 12-ounce works of wonder. Capped and labeled dem suckers to boot.
On Saturday, high noon, The 18th Annual Pumpkin Carving Party began in earnest. There were costumes. There was carving. There was pizza. There were meatballs. And, to the giddy delight of the grownups, there was BEER! And this years' model tasted pretty damn good. I think tweaking the malt & hops upwards paid off. Matty D thought so as well. A fine time was had by all. The Nudz sho' know how to throw a fandango.


BREWED: October 5, 2010  BOTTLED: October 22, 2010

BARLEY: 500g Caramel Malt 80L, 300g 2-row Malt  HOPS: 85g Cluster, 45g Cascade

EXTRACT: 6.5L Light Extract

OTHER: 10 lb baked sugar pumpkin, 2 sliced vanilla beans, p-pie spice, Irish Moss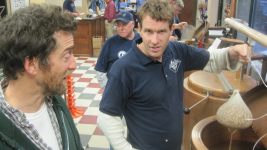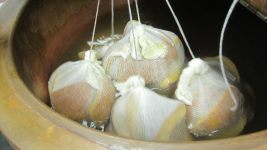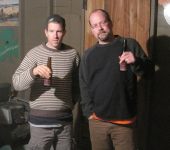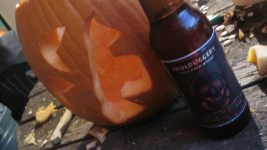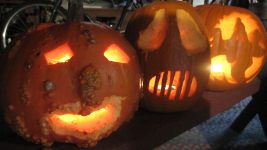 ---
.:: 2010 DAK WOODS DUNKELWEIZEN ::.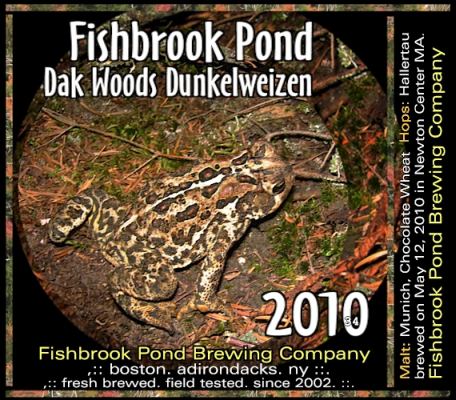 (May 12, 2010, Newton MA) #34. The aim on this one is somewhere between a Dunkelweizen and a Weizenbock. A German-style dark wheat ale. With some teeth. 'Course I redesigned it to suit my own tastebuds. Two pounds of authentic Munich malt (a pound each of Munich 2, whatever that is, and Munich 20L, which be signifyin' darkness.) And a full pound of Chocolate Wheat malt that might mellow my yellow. A wild card, tastes good raw, but I've never used it. And these German styles can always use a little more hoppage in my opiniop/pH2BH2n, so the German HaFpONT FACE=llertau hops hath been doubled up, an ounce fer de bitters, an ounce fer de flavorings. So maybe a Germ will provide something g The The The o The od! an ale with/B American attitude. After reading the fine print, the yeast was made in France. The irony.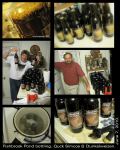 Everthing according to the general unplanned plan, I think. A partial mash with grains setting in 160-150° water for 45 minutes. In all honesty, I haven't a clue as to what converts to sugar (eventually alcohol) in this circumstance. No sparge, which baffles me as well. Hell, I'm a simple ROCKET SCIENTIST, not a brewer! The first successful use of my stainless-steel wort cooler. This thing-a-ma-gadget is placed in the kettle, hooked up to a faucet that runs cold water through a metal coil. And deposits it in the sink. And it works like a charm, cooling the wort (brew) in record time. Getting it hooked up to my faucet was the task.
(June 7, 2010) Jeff joined in on the bottling frenzy, and the Dunkelweizen tasted strong and excellent. We'll know for sure in about a month.
2010 DAK WOODS DUNKELWEIZEN FIELDTEST
(August 15, 2010) I think I've got a handle on this brew now after many fiel Bd tests. The Dunkel has traveled to the Robinwood, Nantucket, the Whites, and the Mazz Motel in Waltham. (Okay, I'm lying about the last one.) The first few swigs of this dark elixer don't seem promising. Maybe it's the German wheat yeast (sorta Belgian-like in a tart sorta way) or maybe an 'off-flavor' brewing screwup. But then, halfway through the glass, the malts kick in and everything's hunky-dory. Or hunkum-bunkum. At any rate, it tastes real fine 'cept fer the first few sips. Very malty, a tad more hop presence than German tradition. And a tad more alcohol too. As was anticipated. I'm likin' it - not a favorite style of mine but I sure love the look of dark beers so that was somewhat of an inspiration for brewing this style. And trying something different.


BREWED: May 12, 2010   BOTTLED: June 7, 2010

BARLEY: 2 lb. Munich malt, 1 lb. Chocolate Wheat  HOPS: 2 oz. Hallertau pellet

EXTRACT: 6.6 lb. MUNTONS Wheat, 1 lb. MUNTONS Amber DME 

YEAST: Safbrew wb-06 (Dry Wheat Beer yeast)


---
.:: 2010 QUCK SIMCOE IPA ::.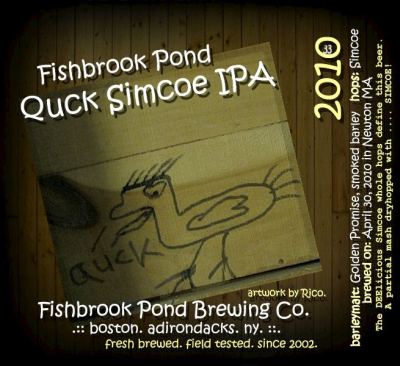 (April 30, 2010, Newton MA) #33. Quck Simcoe IPA was almost a SMASH beer - Single Malt and Single Hop. A spontaneous addition of Smoked Barley ended that dream. Single hop anyway. This brew was inspired by the 2008 harvest of Simcoe whole hops that were had by way of Freshops in Oregon. Amazing aroma, these hops sat in my freezer for nearly a year before the INFERNAL EQUINOX ALE was brewed. Which may be tasted tomorrow B. These hops reeked of latest bestest beer - Green Flash West Coast IPA.
This brew was transitional, experimental. MaybIIe mental. Just sayin'. Sort of a partial mash. Meaning the Golden Promise barley was sittin' in 160° water for 45 minutes. The Smoked Barley was added afterwards as the kettle heated up. So hopefully we gots some bonified mashed barley. A boilover occured. (Here we GO!!) Extract was then added. After 1 oz of bittering, smatterings of the superb Simcoes were dossed into the deep at five minute intervals. Give or take. The lion's share at the end. It's this scientifical methodologistics that furthurs the brewer's knowledge. (Or so I have read.)
'Course I had been drinkin' some. And I'm coolin' the wort in the sink as we speak. Waiting.... waiting .... waiting... Pitched a packet of Safale s-04 because it was there. Anyhoo, a fine brewday was had by the fastidious Fishbrook Brew Crew (me) and in a month or so we'll see some results. PS - Gots an ounce left of the sticky-icky (Simcoe) saved to dry-hop this concoction. "'Spect you'll be there when I'm done," as the great Dorvis Bun once said.
(May 10, 2010) Racked this baby to secondary, splashed 5 gallons or so into an ounce of the delightful Simcoe flowers. All whilst enjoying a glass of the last batBch (Infernal Equinox.) How cool is that? All went smoothly, sanitized everything I needed, and, not to blow my own horn too loudly, I'm the Jack Bauer of the syphon. Or more accurately the Deer Hunte HSPA HSPACE=CE=r DeNiro - one shot. And for you art lovers out there, the mighty fine Quck Simcoe label features a marker-on-pine/H2 illustration from Waltham folk artist Rico. First of a series? Stay tuned.....
(June 7, 2010) Bottled and tasted this fine IPA. Dem Simcoe hops rock. Lotsa scrubbin' and cleanin'. Don't care fer that part of it, but the actual bottling process is fun. This brew has a strong aroma, as we had hoped.
QUCK, DUNKEL, EQUINOX, ESB FIELD TEST ::.
(June 18, 2010) On a ridiculously nice summer evening, the Robinwood Lounge hosted a tasting of four fresh ales, three for the first time: Quck Simcoe, Dunkelweizen, Equinox & Charles River ESB. All but the Equinox were conditioned in the bottle now for about 10 days, so these swell swills are a tad on the young side. But old enough to know better. All have carbonated nicely. The Quck was my favorite, dem Simcoe hops are just DEE-licious! The Dunkel, with its hefty malt bill needs more time. Dave's ESB does as well. The Equinox,now a footnote in history, rounded into a tasty dark bitter. RIP. There was grilling, the guitars came out, and the Red Sox bested MannyBManny's Dodgers. A fine evening.
(August 15, 2010) After another ridiculously fine weekend, I bellied up fer another Quck Simcoe IPA. In all honesty I've been field-testin' this for a coupla months, and with no regrets. The Simcoe hops are presented here as low on the bittering side, but super-aromatic, grapefruity maybe, and very drinkable. VERY drinkable. Not really trad-IPA in bitterne ss - perhaps a high-velocity hop in the boil might 'IPA' this more. But a nice session brew, guessin' low on the alcohol. I'm fergettin' the hydrometer readings with alarming regularity! Kinda brewing nowadays the way I play music: spontaneous noodling.


BREWED: April 30, 2010   SECONDARY-DRYHOP: May 10, 2010    BOTTLED: June 7, 2010

BARLEY: 1.2 lb. Golden Promise malt, ˝ lb. Smoked barley  HOPS: Simcoe leaf

EXTRACT: 3.3 lb. BRIESS CBW Golden Light, 2 lb. MUNTONS Plain Light DME 

YEAST: Safale s-04 (English Ale yeast)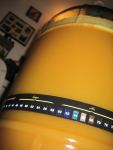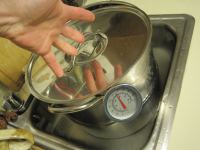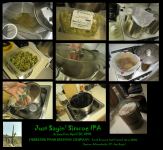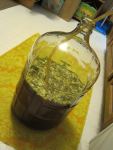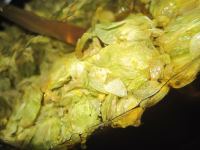 ---
.:: 20 ALIGN=10 CHARLES RIVER ESB ::.
(May 16, 2010, Newtonville MA) My 'guest brewer' appearance at the Otis Street location of Charles River Brewing. First time for me brewing full mash. Mashin' and a spargin'... Dave's got a fine setup - two propane-powered 15 gallon kettles (Blichmann?) in the garage.
Innerestin' process. Really the way to go, but sadly, not fer me 'til I get bigger brewspace. Dave's learning fast, really understands the process. Tasted a solid stout and a Belgian-style Tripel that he brewed. Whole lotta fun, stuff like kids and dogs in the way made it more challenging. A bit worried about the sanitation. And spiders dropping into the mash. ('Cause that's hard to replicate if it's a keeper!)


BREWED: May 16, 2010   SECONDARY: May 23, 2010    BOTTLED: June 10, 2010

BARLEY: Pale malt  HOPS: Cascade plugs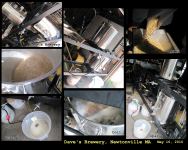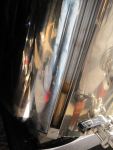 ---
.:: 2010 INFERNAL EQUINOX ALE ::.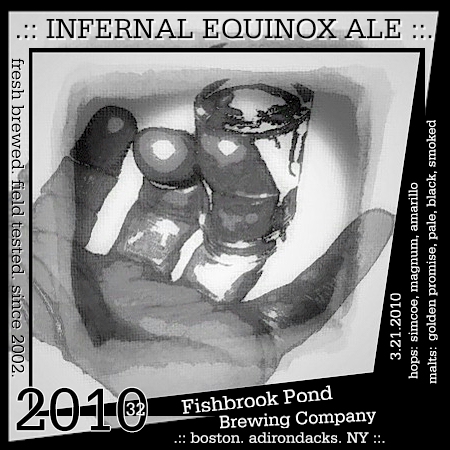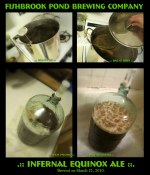 (March 21, 2010, Newton) #32. Maybe a few hours short of the bonified Vernal Equinox. But hopefully a goodun, though I did about everything I could to screw it up at crunch time. But the the yeasties seem to be happily chowin' as wefont face= speak.
This brew was (pretty much) a man without a plan. I wanted to use some barleymalt that had been taking up room in the fridge for awhile. So some legendary Golden Promise & some pale ale malt became the base. (Alongside Munton's Extract of course.) Then a pinch of black for color, and a smithering of smoked malt fer the 'je ne sais quoi'. (The ghost of Julia Childs made me say that.) The Simcoe whole hops smelled amazing. In the icebox since fall, they're the sticky-icky spice of this brew. Magnum whole hops completed the bittering, Amarillo pellets were slowly and continuously added (in the Dogfish Head tradition!) from mid-boil to the end.
Made the mistake of brewing this one stone cold sober. A comedy of errors occurred as I began to cool the wort. Cooling & siphoning all went south on me, so I finally funneled it (screened) from the kettle to the carboy. Not unheard of but not in the 'plan'. Pitched double yeast hopin' any alien invaders from my stinkin' flood-soaked apartment would be kept at bay. The yeasties were hard at work in the morning, so I'm hopin' all is well.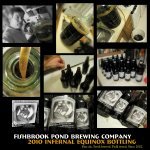 (March 24, 2010, Newton) Bubblin' like a mutha in the bathtub fer 3 days now. Brown in color. This hopey-changey thing is lookin' up! Beer-wise anyways. The country may still be shit. Attached a thermometer to my carboy an hour ago. Temp (in my bathtub) is 58°f.
INFERNAL EQUINOX BOTTLING
(April 20, 2010, Newton) This one's a single fermentation, no dryhop. Bottled it tonight, smelled great but being a one-man bottling crew was a bit hectic - didn't get a chance to taste it. A bit of work, the worst of which is sanitizing everything, but a lotta fun when things go smoothly. My bottling lubrication was Schlitz - the beer that made Milwaukee famous. "Just the Kiss of the Hops." Not bad, nothing objectionable. (Hey, I'm on a budget heah!!) Maybe an early stealth field test around the hush-hush top-secret May 1st event.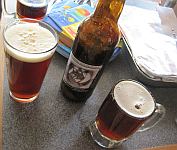 An astute observer (or Fishbrook Pond historian) might have noted a slight discrepancy on the label. This is, by official sanctified tally, the 32nd brew. The label on the bottle stealthily states 31. Yet another in the error of comedy.
INFERNAL EQUINOX PRELIM FIELD TEST
(May 1, 2010) (May 1, 2010) REDUNDANCY ALERT! Gave this (Dak Rye Pumpkin) a good taste at Jeanette's b'day surprise in Holliston. Rounding out nicely now, a big beer with the flavorings sitting nicely in the background. Also gave the Infernal Equinox Ale a taste test. Only 10 days in the bottle but it has carbonated and is a beautiful amber colored ale. Tastin' promising as well.
(May 8, 2010) After a superfine pubcrawl in Cambridge and Boston, umma takin' a second look at the Equinox, in real time. Flash to mid-afternoon: 'Twas a dreary spring day in Boston, so umma thinkin', great day to brew. So I march my little feat on towards Modern Brewer fer some Dunkleweisen ingredients. Gots me some wheat extract, Munich malt and chocolate wheat. Gots the rest in stock. Well, a man gets thirsty along this lonesome road. Redbones to the rescue. McNeill's Porter was superb as was the Green Flash West Coast IPA. A dude walks up to the bar, asks, "Whattya have, I like IPAs." The bartender answers, "Green Flash. End of discussion." Green Flash gots it. I pushed onwards to the Independent. As research, I ordered me up a Weihenstephan, a dunkelweisen. From the oldest brewery beknownst to mankind. OK. OK. Sixpoint from Brooklyn won the night with a rye ale and, I think, a porter. I then hoofed homewards. Anyhoos, whan all was said and done, Infernal Equinox Ale stands proud. (But perhaps I gots a dog in this race!)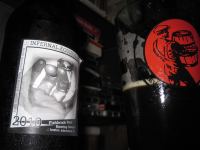 (May 15, 2010) Okay, NOW this ale is ready to stand up fer itself. After an excellent 31-mile bike ride west of Boston, Natick and Framingham via Route 16 and on back via 30, and with a stop at John Harvards Brewhouse fer several fine brews, I was home. (How's dat fer an information-loaded sentence?) More to point: the Infernal Equinox is really startin' to taste mighty fine. Amazing how quickly the flavors develop. 'Tis a deep copper-colored brew, with an enticing aroma and a creamy head with distinctive lacing. No ... Seriously! It's basic pale ale, not unlike the Fishbrook Pale Ales of times past. But it is a fine fresh ale. A little bit chewy - this has balanced out. A NICE FRESH ONE!
(May 17, 2010) BERNIE: I just wanted to let you know that the Infernal Equinox Ale was Back Yard Tested and Back Yard approved. It is a fine Ale, that Bernie likes! You are a fine Brewmaster, let me know when you are doing new batches, I will help with the process, from beginning to draining the bottle!
(May 28, 2010) JB: On this fine evening, on the cusp of Memorial Day weekend, a Fishbrook Pond brewer might just remember back a coupla months. To a time when spring sprung. The Infernal Equinox. Memory jogged, he may then fetch a coupla chilled bombers of beer brewed on that occasion and set into motion a field test. In the Great Indoors! Outdoorsmen cringe. Backdoorsmen... well, they do what they do. But an avid Indoorsman will bite the bullet and, despite difficulty, do the field test. And on this occasion, the circumstance proved difficult. The couch was feelin' lumpy, and the AC was not coolin' at the usual pace. (It was a sweltering 72° out there fer chrissakes! Just BRUTAL.) But the Indoorsman focused on the task, opener in hand, and proceeded.
I'd say this brew is a bitter. In the English tradition. A low-alcohol pale ale. It's dark amber in color, a bit thin yet flavorful. Nothing bad about it, no off flavors. Probably on the low end in alcohol. Reminds me of some brews at the Real Ale Fest in Somerville. 'Tis a fine 'drinkin' beer'. A session brew. And fer the second time, I've followed it with Ipswich Original Ale. And been humbled. No contest. Ipswich and Smuttynose brew the finest East Coast ales in my opinion. Ipswich wins.


BREWED: March 21, 2010    BOTTLED: April 20, 2010

BARLEY: 6 oz. pale malt, 4 oz. Golden Promise, 1 oz. black, 1 oz. smoked  

HOPS: Simcoe & Magnum leaf, Amarillo

YEAST: Safale US-05


---
.:: 2010 DAK RYE PUMPKIN ALE ::.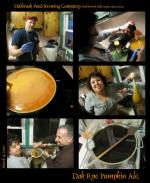 (March 13, 2010, Lunenburg) #31. PUMPKIN. Are the Fishbrook Pond Folk becoming pumpkin specialists? This is the 30th official brew, and yeah, that's the secret number on the label. (Most of the time, could be our 30th Annual Oktoberfest, you never know unless you do. But it's not.) And this is, I think, the 7th pumpkin ale. Curious as I generally don't tend towards outside flavor. Love the barley. Love the hops. The other shit ... only when it's done well and in the background. Just sayin'.
'Twas a beer-filled rainy day as Weasel, Sandy & I hit the most excellent NFG Homebrew for supplies, then Wachusett Brewery for a tour and growler fill, then met Quarter at Na shoba Valley Winery for a tasting. They make beer & spirits (single malt whisky!) in addition to wine.
The brewmasters then scooted back to Lunenburg and fired up the kettles. We were deciding between a pumpkin ale and a rye, found a pumpkin recipe and changed it up a bit to include chocolate rye malt. One kettle was grains, one pumpkin. They were then combined and brought to a boil. Everything went smoothly 'til we pitched the yeast and couldn't locate the airlock. Hopefully this will be okay for a day. Gonna be a dark roasty pumpkin ale.
Weasel: Hey JB - got the airlock, and also threw in one more packet of yeast. Sandy thinks she saw it bubble today....we'll keep our fingers crossed. The brew is bubbling. Hope it comes out ok despite the airlock shit.
JB: I think the brew is gonna be fine - the extra yeast you pitched will overpower any little bastids that tried to sneak in. Danno, I mighta solved the Mystery of the Missing Airlock. Remember I started emptying the bucket with the sanitized shit in it down your sink? And you said to empty it outside? I bet the airlock was still in the iodine water and I sent it down the pipe. My bad.
Weasel: Sandy found it outside tonight. It was cracked. It must have been when you emptied it. The brew is bubbling quite nicely now. The recipe says 9 days primary and 14 days secondary. Does that mean 23 days in the bucket? Then 2 weeks in the bottles? Can't wait.
JB: Yeah, I fucked that up and didn't even realize it. A mind is a bad thing to lose. And I've learned this lesson before: always have a backup. (I have a few airlocks so I'll bring you down an extra when we bottle.) 23 Days in the Hole! That's about it - it's mostly about the yeast having done their work and the sediment sinking to the bottom of the barrel. So - not rocket science. MUCH MORE COMPLEX! Guessing the yeast has had it's fill at this point.
The BIZARRE INGREDIENTS: This from Wiki: 'Bentonite is an absorbent aluminium phyllosilicate, generally impure clay consisting mostly of montmorillonite. Bentonite has the interesting property of adsorbing relatively large amounts of protein molecules from aqueous solutions. It is therefore uniquely useful in the process of winemaking, where it is used to remove excessive amounts of protein from white wines.' And this from Wiki: 'Pectic enzyme: An enzyme added to fruit to increase juice yield. Also used as a clarifying agent in fruit wines when added to wine or must to eliminate pectin hazes.' We added these blindly, so I suppose we'll see the results. Not that we'll know what to make of them. Before the fact, I'm not a fan of additives.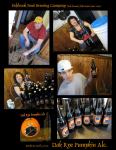 PUMPKIN BOTTLING
(April 3, 2010, Lunenburg) We made a quick trip to NFG Homebrew for bottles and priming sugar, and tasted their honey ale & American light (which were very good). The crew comprised Sandy, Weasel, Neil and myself. We sanitized everything, then siphoned the brew to the bottling bucket. A few stops and starts, but with the practice, Sandy and I are now master-siphonists. Weasel and I manned the filling, Sandy capped 'em, and Neil labeled. A well-oiled machine. Ready to glide: NATIONWIDE.
Ran outta bottles so we filled Danno's German growler. Still had a coupla pints so we drank the rest. 'Tis a deep amber brew with much sediment still floating about. Tart and sweet (a bit sweeter 'cause the pitched priming sugar has not yet fermented), full bodied with some spice and banana tones. We were all excited about the potential of this. We'll get a better idea towards the end of the month.
DAK RYE PUMPKIN FIELD TEST
(April 17, 2010) After exactly 2 weeks in the bottle, I brought one down to Newport RI, to the Annual Erebus Directors Meeting. This is a strong ale, around 8.5%. (A session brew for Bobby Peru and probably many of the Erebus directors.) It is, of course, bottle-conditioned, and it had carbonated. Tasted not far from what it had on bottling day. Tart, a bit sweet, with pumpkin & spice. Needs a bit longer for the flavors to meld in my opinion. But not bad, not bad at all.
(May 1, 2010) Gave this a good taste at Jeanette's b'day surprise in Holliston. Rounding out nicely now, a big beer with the flavorings sitting nicely in the background. Also gave the Infernal Equinox Ale a taste test. Only 10 days in the bottle but it has carbonated and is a beautiful amber colored ale. Tastin' promising as well.


BREWED: March 13, 2010  BOTTLED: April 3, 2010

BARLEY: ž lb. pale malt, ˝ lb. chocolate rye malt  HOPS: fuggle leaf, kent golding

YEAST: Nottingham

OTHER: 4 lb. organic pumpkin, molasses, brown sugar, nutmeg, cinnamon, ginger, bentonite, pectic enzyme


---